Comprehensive Remote Monitoring and Control Solutions
THE NavBOSS SUITE OF REMOTE MONITORING AND CONTROL SOLUTIONS PROVIDES TIME-TESTED RELIABILITY FOR AIRPORT OPERATIONS
NavBOSS is a complete range of Remote Monitoring and Control solutions engineered to end-users' requirements.
The NavBOSS suite of products provides scalable solutions using a wide variety of link technologies. Equipment can be deployed in a multi-tier network to provide regional or country-wide monitoring at centralized maintenance centers in support of airport operations.
Benefits:
Flexible, customizable, and scalable to the needs of the small and large ANSPs
Reduces staffing on sites
Remote maintenance and troubleshooting
Remote flight check support
Trend data collection to provide analysis of difficult to diagnose long term equipment faults



Remote Status Monitoring System (RSMS)

RSMS software allows users to manage an entire network of systems.
At-a-glance view of network health and status for connected NAVAIDS, RCSUs, and other airport equipment on customizable map layouts
Rapid Focus on specific airports and connected equipment for unit level view
Ability to centralize maintenance activities and supervision
Communicates on IP and legacy serial or dialup networks
Supports copper, fiber, radio modems, cellular modems, and satellite based communications
Provides insight on when to dispatch maintenance staff
Remote Control Status Unit (RCSU)

The Selex ES® Model 2238 Remote Control Status Unit (RCSU) has the ability to monitor and control all ground navigation equipment, such as ILS, VOR, DME, TACAN, as well as other airport systems. The 2238 RCSU combines a fully functional Air Traffic Control tower cab-mounted display system with the most advanced remote maintenance capability, including remote adjustment of NAVAID parameters not previously available in the industry.
Available in a range of COTS and customized COTS configurations targeting 19" rackmount, desktop installation, or deployment via Virtual Machine container
TCP/IP LAN Connectivity, Single Point RMM Connectivity, security password protection, and map-based graphical user interface
As an alternative, the Selex Model 2240 RCSU is designed for installations consisting of up to three NAVAID stations. It incorporates LED status indicators. An external battery unit provides battery backup operation in the event of an AC power failure. The 2240 RCSU is designed for installation in a standard 1U equipment rack panel space in a control tower equipment room.


Remote Status Display Unit (RSDU)
The RSDU is the preferred interface for ATC situations requiring monitoring of multiple runways and approaches. RSDUs are typically installed at ATC locations, as well as at other points around the airfield requiring at-a-glance status of the associated navigation equipment. Any practical number of RSDUs can be connected to the 2238 RCSU over a TCP/IP network connection. Several form factors are available, including large touchscreen LCDs, compact panel mount systems, and notebook PC-based systems.
NavBOSS and Smart Glasses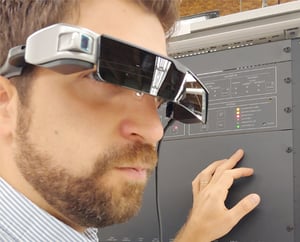 A feature that can be added to the Selex ES® Model 2238 Remote Control Status Unit (RCSU) is the ability to troubleshoot maintenance issues remotely using innovative technologies such as smart glasses. These smart glasses can be used for remote site that encounters an issue with a NAVAID causing an outage and may not have a highly trained technician at the site. We can provide that on-site resource with a pair of smart glasses that are connected wirelessly to the regional center, or to our customer service department in Kansas. Through this connection, the highly skilled technicians can assist in real-time to troubleshoot and repair the NAVAID.

Benefits of NavBOSS Smart Glasses:
Reduces travel, downtime, and cost
Customers can instantly connect with our engineering team from any location around the world for live "see-what-I-see" support
With Covid-19 related or other travel restrictions, operators we are able to virtually bring your team into our facilities for real-time, world-class training and in-depth factory acceptance testing
Virtual walkthrough of a tuning procedure with an engineer or access step-by-step work instructions from the top of the glideslope tower
Supports flight checks to provide the expertise, where you need when it matters most
Allows your team to operate everywhere from anywhere
Our Customer Service has an outstanding reputation worldwide for prompt support. Whether through the NavBOSS Smart Glasses feature, or by phone, email, repairs or on-site assistance; Selex ES can be counted on to keep your NAVAIDS operating and to quickly remedy a rare equipment outage and prevent potential revenue loss