LEASING PROGRAM
Benefits of Leasing and How to Apply:
At Leonardo, we understand that budget constraints can be a challenge when your agency is trying to purchase new equipment or technology. That is why we have partnered with Lease Corporation of America to give you the option to finance your critical communications equipment through a convenient leasing program.
Leasing your equipment allows you to finance everything needed to implement your land mobile radio solution. LCA offers a streamlined application process with a quick turnaround time of no more than 48 hours, and often approval is given on the same day.
What are the benefits of leasing vs. paying up front?
Conserves your credit lines and preserves capital
Overcomes budget restrictions - pay over 24 to 60 months
Low, or no, up-front payment required
Helps manage cash flow
Complete solution financing - hardware, maintenance and services
Allows your agency to stay current with the newest equipment and technology
Interested in Leasing a Land Mobile Radio Solution?
Three Easy Steps:
Fill out this

contact request form

. Your regional Leonardo sales manager will reach out to get the details of your purchase and will provide you with a quote and the leasing application.
Submit the application via the

myLEASE® page

or by phone or email.
Once approved (usually within 4 hours) LCA sends you electronic docs to sign and return.


If you prefer to talk over your options on a call, or would like a quote for your project, just let us know here :
THE Leonardo PEACE of MIND GUARANTEE:
BEST GUARANTEE IN THE INDUSTRY
Our Peace of Mind Guarantee takes customer service and support to new heights for both our end-users and partner resellers.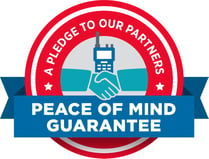 It is our goal to ensure our customers and partners obtain the most value from our systems through innovative support and training. Customer support and service is what separates us from the competition.
You will not find a more dedicated group of professionals committed to customer success than our Leonardo Team.