Increase Capacity And Improve Communications
With Digital Mobile Radio
Digital mobile radio (DMR) is created by leading manufacturers and certified by the European Telecommunications Standards Institute for an open standard that is a direct digital replacement for analog private mobile radio (PMR).
DMR solutions have many advantages over other digital PMR or land mobile radio (LMR) technologies targeted at the critical communications and commercial sectors.
At Leonardo, drawing on our 100-plus years of experience in providing all methods of wireless communications, we provide critical communications to utilities, public safety, transportation and large business enterprises.
Digital Mobile Radio:
Features
Created by leading radio manufacturers, DMR is an open standard certified by the European Telecommunications Standards Institute (ETSI).
The ETSI DMR standard provides an easy migration path from analog to digital PMR technology.
The use of a two-slot time division multiple access (TDMA) delivers a reliable, doubling of capacity in a technology that aims to provide a lower cost, less complex digital solution that is scalable and flexible.
The Adaptable Platform
Legacy LMR technology platforms often have proprietary features and restrictions that result in forced obsolescence and upgrades. Another result is limited competition and increased costs.
That's why Leonardo's digital LMR solutions and architectures are based on state-of-the-art protocols that enable lower first and lifecycle costs, obsolescence protection and the flexibility to choose the combination of solutions that match your needs.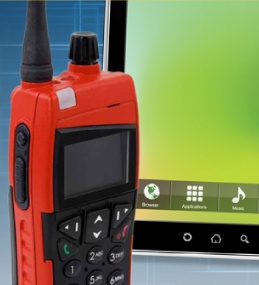 Reliable Customer Satisfaction
LMR connectivity is often a 24/7 job where a mission-critical event can happen at any time. That's why our expert technical support is always available when you need it – 365 days of the year.
At Leonardo, we take our role in helping to keep your community safe seriously. No matter the situation or source of the problem with our LMR systems, we provide a quick and complete resolution – even if it's on our dime.