ELSAG® Fixed Plate Hunter™ Product Sheet
Leonardo's ELSAG fixed license plate readers are cost-efficient workhorses engineered for a variety of functions including:
Identifying vehicles on a "hot list"
Reporting ALPR reads and alarms to the Enterprise Operations Center in real-time
Real-time ALPR alarms in Dispatcher Application
Managing traffic and tolling issues
Get the details behind the technology that allows our fixed plate readers to accurately capture license plate data in any weather, day or night.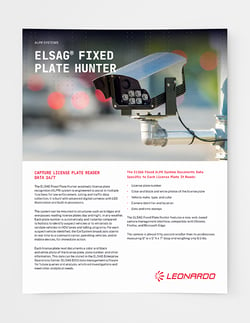 Get the product sheet today.
"Two of the biggest benefits in deploying ELSAG plate readers are the real-time alerts our officers receive and the investigative evidence we capture from the plate reads. The fact that we can look back on the history of the data collected is a very powerful tool."

Chief Dawn Layman, Lenexa, KS