Plate Hunter M6™ Mobile ALPR
The Most Advanced Mobile License Plate Reader Available
ELSAG's Mobile Plate Hunter M6™ represents the sixth generation of our mobile Plate Hunter. These automatic license plate readers (ALPRs) are the most advanced systems on the market today. Our modern mobile ALPR systems benefit law enforcement agencies, parking authorities, toll operators and access control organizations looking to enhance patrol presence, add a force multiplier and improve efficiency.
The Plate Hunter M6™ minimizes the guesswork and safety risks that challenge enforcement personnel every day.
This highly advanced mobile ALPR system reads plates day or night, in all weather conditions, and from all 50 U.S. states as well as most foreign countries.
The Plate Hunter M6™ Mobile ALPR System:
Features
Combining over 20 years of hardware and software development with the most sophisticated electronics and sensors available today, the redesigned Plate Hunter M6™ has new mobile ALPR camera design features, including:
Cameras that are 10% lighter
Field of view that's expanded by 30%
The latest CMOS sensor technology
Higher resolution cameras at 1280 x 1024
Lower power consumption at 15w for two cameras
Improved color accuracy and overview image resolution
Better integrated power conditioning and configurable delay timer
The upgraded features result in a more effective and affordable product, with the improvements reducing the overall cost of the system by 25%.
Tech That's Tailor-Made
When you work with ELSAG, you're not simply purchasing a static piece of hardware or software. You're gaining a dynamic, flexible and highly customizable ALPR system with which we make continuous improvements based on customer feedback.
If an officer or IT manager thinks up a new feature, we'll figure out how to build it, rigorously test it and roll out the beneficial changes to the greater user base.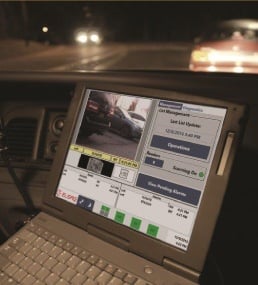 Your Mission Is Our Mission
We know your department needs meaningful and measurable ways to positively impact community safety. At Leonardo, we are passionate about creating an ethical, accurate and instant means of ALPR data delivery.
Through continuous technological development, reliable 24/7 system support and compliant, real-time data captures, you're equipped with the most efficient and effective ALPR technology available.