ELSAG® EOC Plus™
Advanced Recognition Technology—Beyond LPR
Introducing: ELSAG EOC Plus
Identify Suspects by the Electronic Devices They Use
ELSAG® EOC Plus is a groundbreaking electronic surveillance system for law enforcement, designed to identify suspect people or vehicles, even when a license plate number is not known. EOC Plus is an enhancement to our standard data management and analysis software.

This system uses strategically placed sensors to collect electronic communication patterns and identities of consumer electronics, like vehicle components, Bluetooth, RFID tags, and Wi-Fi. As the electronic devices emit signals, sensors in the EOC Plus system capture their identifying or categorizing details to create an additional data set to enhance the records created by the LPR cameras.
ELSAG EOC Plus :
Product Features
Identifies the movements of electronic devices, individuals, and vehicles
Stores data on the EOC Plus server where it can be queried and analyzed to aid investigations
Respects individuals' privacy rights (does not decrypt or read content from devices)
Allows law enforcement to recognize a specific vehicle included in an electronic signature, without the license plate number
Reveals signatures frequently travelling together with an individual or vehicle, which can lead to the discovery of convoys and other movement and travel patterns
EOC Plus is effective in off-road areas such as in subways and malls
Performs with or without license plate readers at every collection site, allowing for a wider coverage area while keeping deployment costs down
How it works
As the devices emit data, EOC Plus sites gather it, along with LPR data if present. The data collected shows what group of devices are travelling together. As part of investigations, algorithms can determine which specific mix of devices are predictably moving together. That specific mix of devices—linked by common time stamps and locations—are described as an electronic fingerprint and can aid in the identification of suspects or witnesses.
For example: while thirty cars in 100 may contain iPhones, only one will have an iPhone 13rev2, an Audi radio, a pair of Bose headphones, a Garmin sports watch, a key finder, and the license plate ABC-1234. The collection of data represented by these specific things is an electronic signature.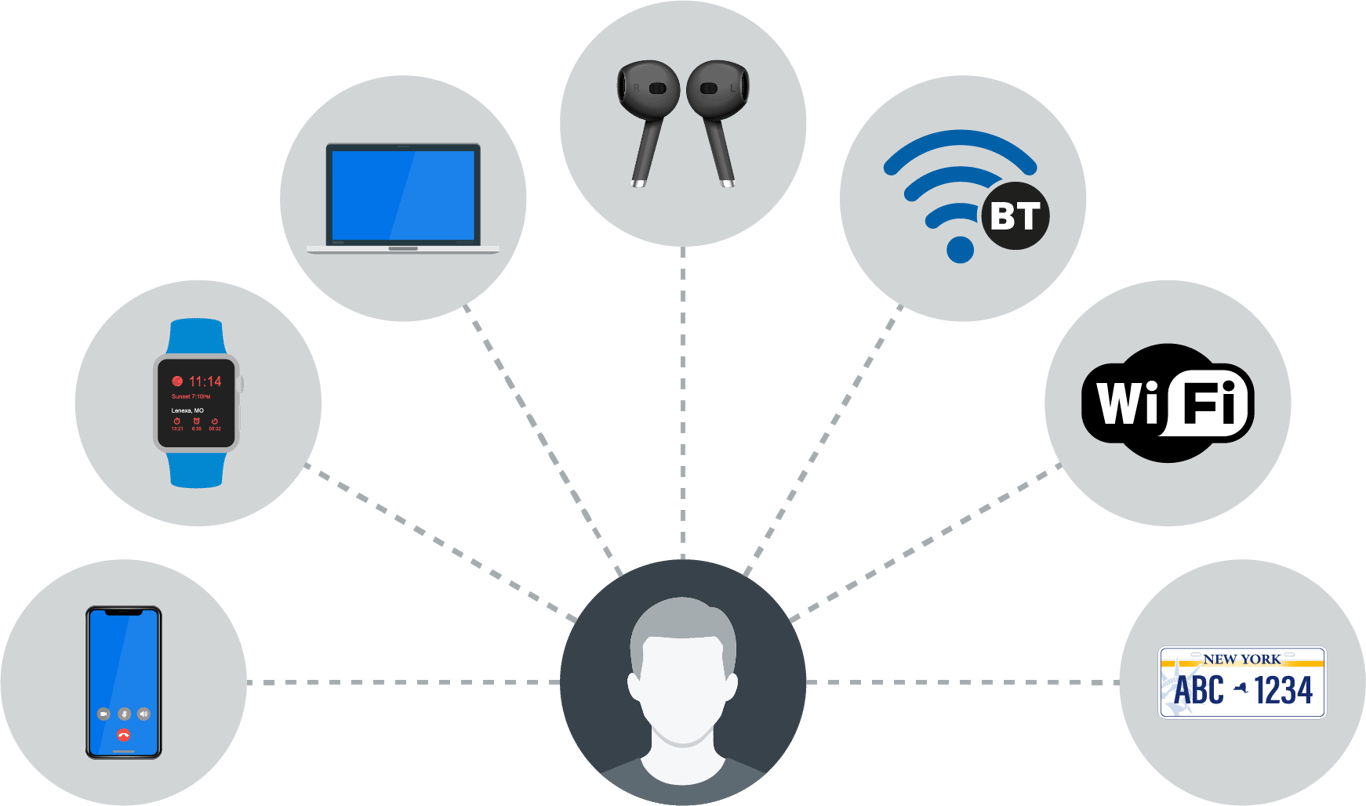 Technology that Respects the Rights of Individuals
ELSAG EOC Plus was designed to ensure it does not infringe on the rights of individuals. It captures device signals but does not decrypt or read the contents of the devices or their communications. In the same way, license plate readers capture plate numbers from vehicles, not driver information.
The EOC Plus system simply stores data until a specific request is made of the system by an investigator. It allows an electronic signature to be alerted on once it has been identified in the process of an investigation, and only in a case where a crime occurred.
ELSAG Enterprise Operations Center Software:
Benefits
Strict Data Security
The software offers strict data security, grants multi-level access to data and facilitates user auditing so all EOC user activity is transparent.
Detailed Data Archiving

All data collected may be uploaded to the EOC server and archived for future queries and analysis.
The Leonardo Advantage
Partnering with Leonardo not only gives you access to the most advanced, field-tested ALPR technology available, it also gives you peace of mind. Why? Because we stand committed to providing the superior service and technology our global customers expect from us.
The Leonardo Advantage is our commitment to you, built on the strength of these four pillars:
Product Ecosystem As the world changes, so do we. Our ever-growing ecosystem of license plate readers and the most robust ALPR data management software in the industry includes a variety of options—including mobile, fixed, solar-powered, and custom solutions that stand the test of time. The best part? They all work seamlessly with each other to create a safety net in your community.
Data Privacy Our data privacy policies protect your ALPR data and the rights of individuals. You own your ALPR data – we will never access it, share it with a third party or sell it.
Responsive Support As your partner we're here for you 24/7/365. We'll help keep your plate reader systems operational, train end-users, ensure software licenses don't expire, and we also invite opportunities to discuss how to leverage your ALPR investment to aid other missions and challenges.
Financing Options We understand the challenges involved when purchasing new technology. So we give our customers options. Whether you choose to purchase upfront, finance over multiple years or subscribe annually, we will work with you to find the solution that fits your budget.
Proudly made in the USA
ELSAG® ALPR Technology: Raising the Bar
Leonardo is absolutely committed to developing ALPR innovations, but we're also focused on advancing our existing ecosystem of ALPR products. How do we continue to improve the most rugged, most responsive and most reliable ALPR solutions in the industry?
We listen to the needs, challenges and suggestions of our ALPR end-users in law enforcement, parking management, security and other industries, to identify new features and solutions that will increase their productivity and further aid their missions.
Our engineers love a new challenge — from research and development to quality control to rigorous field testing. And when it all culminates into successful trial runs, we roll out the improved version to the world, to better support vehicle-related missions and safer communities everywhere. Working together raises the bar faster.