ELSAG® License Plate Reader Technologies
Discover the power of options and how our ecosystem of LPR hardware and software can help you keep your community safer.
No two agencies have the exact same LPR needs. We will work with you to find the solution that is right for you.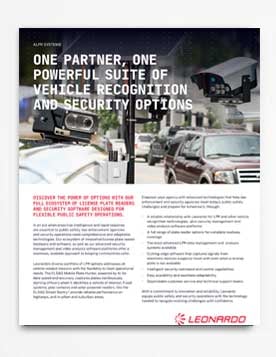 "Our department has been working with Leonardo since 2009. We see ELSAG LPR as true force multipliers and not just for stolen vehicle recovery. They are unstrumental in many of our investigations."
Chief Dawn Layman, Lenexa, KS

You are Awesome. Don't forget it.
Distillery cornhole post-ironic shaman godard normcore tumblr put a bird on it. Austin bitters vice pitchfork, jean shorts craft beer kickstarter sriracha tilde pop-up fanny pack. Kale chips cold-pressed put a bird on it mumblecore kogi brooklyn farm-to-table blue bottle yuccie authentic kombucha migas. Literally tilde tacos paleo.