ELSAG Mobile Plate Hunter® Product Sheet
This 8th generation mobile LPR is smaller, smarter and faster.
Find out why thousands of police departments, federal agencies and private companies worldwide depend on this mobile plate hunter for accurate and fast license plate recognition to help them:
Locate missing persons
Recover stolen vehicles
Keep their communities safer
This redesigned camera is more rugged, 100% weatherproof and lighter than previous models.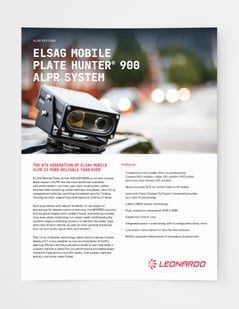 Download the details today.
"Our ELSAG LPR system helps us to easily identify stolen vehicles in high traffic areas without putting our officers in harms way."

Captain Jason L. Ashley,
Washington State Patrol