This past week, Leonardo hosted an international training event at our Greensboro headquarters specifically for our customers who hail from around the world. In addition to providing an overview of our ELSAG ALPR technology and our law enforcement and public safety missions across the U.S., guests received training on the use and installation of a variety of ALPR solutions. In this hands-on training event, end-users learned how ALPR systems create efficiencies for law enforcement agencies using high-speed reading and processing of license plates.
Also in attendance was North Carolina Congressman Ted Budd, a Davie County, NC resident who represents North Carolina's 13 Congressional District. Congressman Budd swung by the event on March 19 for an introduction to our company's ALPR technology.
"We are proud to serve customers in more that 33 countries, as well as every state in the U.S., and are contributing to the local economy by bringing international customers to the Triad," says Nate Maloney, VP of Marketing and Communications for Leonardo.
"It means a lot to us that Congressman Budd spent time at our headquarters," adds Maloney, "learning about our capabilities, reach, and impact on global law enforcement."
A huge thank you to everyone who attended. We were fortunate to spend time with our international customers and so appreciated the chance to get to know Congressman Budd.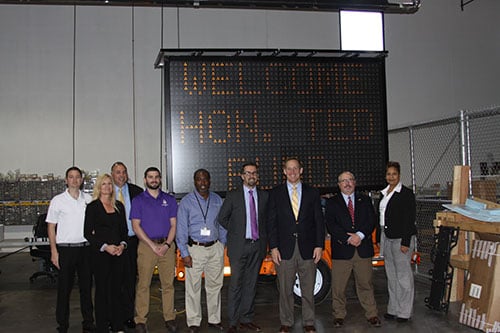 North Carolina Congressman Ted Budd, 3rd from right, joins Leonardo at their Greensboro facility during an international training event.