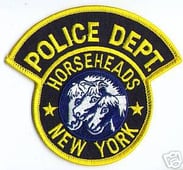 Sometimes, you're in the right place at the right time with your ALPR system—like this one officer in Horseheads, NY, who was tipped off during a routine sweep. The incident lead to not just one, but two arrests.
The Alert
An officer from the Horseheads Police Department was conducting a routine property check at the Budget Inn on Fairport Lane in the Village of Horseheads, when around 2:30 a.m. on Sunday, January 27, he got an alert from a newly installed license plate reader attached to his patrol unit. A vehicle in the motel's parking lot had been reported stolen from the City of Binghamton.
The Suspects
Adam Crispell, 30, of Endicott was charged with fourth-degree criminal possession of stolen property, a Class E felony. In addition, 34-year-old Mindyn L. Marmillion of Endicott was charged with two counts of seventh-degree criminal possession of a controlled substance, fifth-degree criminal possession of marijuana, criminal possession of drug paraphernalia, and criminal possession of hypodermic instruments, all misdemeanors.
The Arrest
Both Crispell and Marmillion were taken to Chemung County Jail—without bail for Crispell, on $1,000 bail for Marmillion. Authorities say more charges are pending.
Special Thanks
The Elmira Heights Police Department and Chemung County Sheriff's Office assisted in the investigation.
Media Coverage
For more on this story, visit:
WENY News: Endicott Pair Arrested in Horseheads with Stolen Vehicle from Binghamton
Star Gazette: Endicott pair charged after vehicle stolen from Binghamton found in Horseheads
My Twin Tiers: Man and woman charged in stealing car that ends up in Horseheads
WBNG News 12: Endicott man found in Horseheads with stolen vehicle, police say