With approximately 70% of all crimes connected to a vehicle, today's law enforcement agencies need a way to increase real-time knowledge of criminal activity while ensuring officers are safe at all times.
The Harris County Sheriff's Office in Georgia recognized the need for a solution to help officers combat and prevent vehicle-related crimes.
The Problem
The Harris County Sheriff's Office needed an extra set of eyes out in the field to help with recovering stolen vehicles, identifying unlicensed drivers and aiding in homeland security. Additionally, it needed a way to improve day-to-day productivity while ensuring officer safety.
The Solution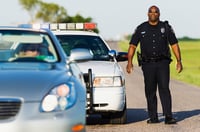 After discussing its needs, ELSAG helped the Harris County Sheriff's Office implement the MPH-900, a mobile license plate reader. The MPH-900 acts as a force multiplier, allowing law enforcement officers to dramatically improve efficiency in the field while keeping the community safe.
The Results
ELSAG's MPH-900 ALPR technology helped the Harris County Sheriff's Office break up a substantial drug trafficking ring with suspected ties to a Mexican drug cartel.
The MPH-900 was deployed during a routine shift along Interstate 185 when it identified a stolen white Chevrolet Impala and alerted officers immediately.
The driver of the Chevrolet Impala was in possession of 500 grams of crystal methamphetamine and arrested on the spot. After additional investigations, officers arrested three dealers as well as two suspects carrying a total of 8,000 grams of methamphetamine.
Without the stealth and efficiency of ELSAG's MPH-900 ALPR technology, the stolen Impala may have gone unnoticed. As a result of catching this one car, law enforcement seized more than $13,000 in cash, almost 19 pounds of crystal methamphetamine worth $850,000 and 19 vehicles.