What makes Leonardo really stand out? Aside from our cutting-edge technology: the people on our team. Here on the blog, you've already met Tracy Brown and Jim Craige. Next up: Meet Stephanie Pluchino, one of the kindest and most knowledgable multi-taskers you'll ever meet. Stephanie has been with the company for 10 years and counting.
TELL US ABOUT YOUR ROLE WITH LEONARDO.
As the Northeast Operations Manager, I handle all LPR deployments throughout New York, New Jersey, Pennsylvania, and Connecticut. Sales, installations, training, customer service—it all falls within the role .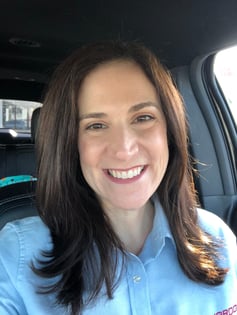 What do you love about working with your customers? And/or your team?
I love how customers know the value of LPRs right away. My customers are dedicated and hardworking officers who work to protect us. It feels good to know we're helping them do their job. As for my team, most of us have been working together for a long time and know each other well. They are genuine and kind people, and we're always laughing. We love what we do and believe in our products. It makes for a great company culture.
What excites you about the products?
Data, data, data! It's invaluable to law enforcement.
What's your background in? What led you to Leonardo?
I graduated from Siena College in upstate New York. A few jobs later, I was looking to move into marketing and sales, and our current VP of Marketing & Communications, Nate Maloney, had recently joined Leonardo. He's a fellow Siena alum and set me up with an interview. Before I knew it, I was said goodbye to corporate finance and jumped into LPR technology. Thanks for taking a chance on me, Nate!
What do you do in your free time?
I love to get outdoors and take my toddler with me. Sometimes a trail hike or we go up north to ski. Indoors, I enjoy cooking (but not baking!) and reading all kinds of books.
Who do you think can really benefit from LPR technology?
Whether it's for the officer in the car getting real-time alarms or systems working behind the scenes sending reads to your EOC, our LPRs are a second set of eyes for any law enforcement agency. In the last few years, Pennsylvania eliminated registration stickers, which was a quick red flag for officers on the road to check a car. We have seen many Pennsylvania departments budget for LPRs now, not just to detect registration status but for assistance in all vehicle-related crime.
Lastly, what question do you get asked a lot by customers?
Yes, you can take the LPRs through a car wash.
Thanks, Stephanie!