Among the many clients Leonardo serves in the ALPR business, parking management is a huge one. From large parking operations across an entire municipality to independent structures with just a few lots, our ALPR parking integration software can add an invaluable force multiplier.
But enough about our products. The people are the best of Leonardo—our clients and our team members.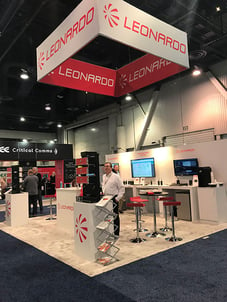 In this post, meet the man who heads up the field operations for our parking vertical, Bart Blair. As you'll see, Bart is new to the team, but certainly not to Leonardo. (And we couldn't be happier to have him on the other side now!)
What's your role at Leonardo?
I joined Leonardo just a couple of months ago. Prior to this, I was actually a B2B client of Leonardo's since 2006. My role now is to help the company focus on the parking vertical, leveraging the outstanding success in the law enforcement world.
What do you love about working with your team?
As a customer for over 13 years I loved working with the Leonardo team, leaning on them for exceptional products and support. I am looking forward to being on the other side of this relationship, helping clients leverage our experience and expertise.
And whenever I'm asked, "Why Leonardo?" I simply tell them that as a customer with extensive experience with many LPR vendors, Leonardo always provided industry best hardware, software, and maybe most importantly, support.
What excites you about the LPR Industry?
The LPR industry has evolved exponentially over the last 15 years since I got started in the industry, and I can't wait to see where it goes next. I'm particularly excited to provide focus on the parking vertical.
What's your background? What led you to Leonardo?
I have spent my career in technology sales and operations starting in the telecom industry, helping wireless carriers solve their fraud problems. I eventually ended up in the parking industry, helping a small, NJ-based startup revolutionize the world of on-street parking debt collections. After starting off in a business development role, I then moved into client management and then to operations, managing our extensive fleet, LPR, field personnel, manufacturing, and more.
When I was leaving my prior position at the end of 2019 after being a long-time customer of Leonardo, we identified an opportunity for me to join the team to help create a new focus on parking.
What do you do in your free time?
I have been passionate about volleyball for a very long time, having been involved as a player, coach, fan, referee, and parent. I am also an avid wakeboarder, mountain biker, skier, and snow boarder.
Want to chat with Bart about parking solutions? Schedule a call anytime.